New Website Launched for the Housing Authority of Kansas City, Missouri
Date Posted: 05/30/2023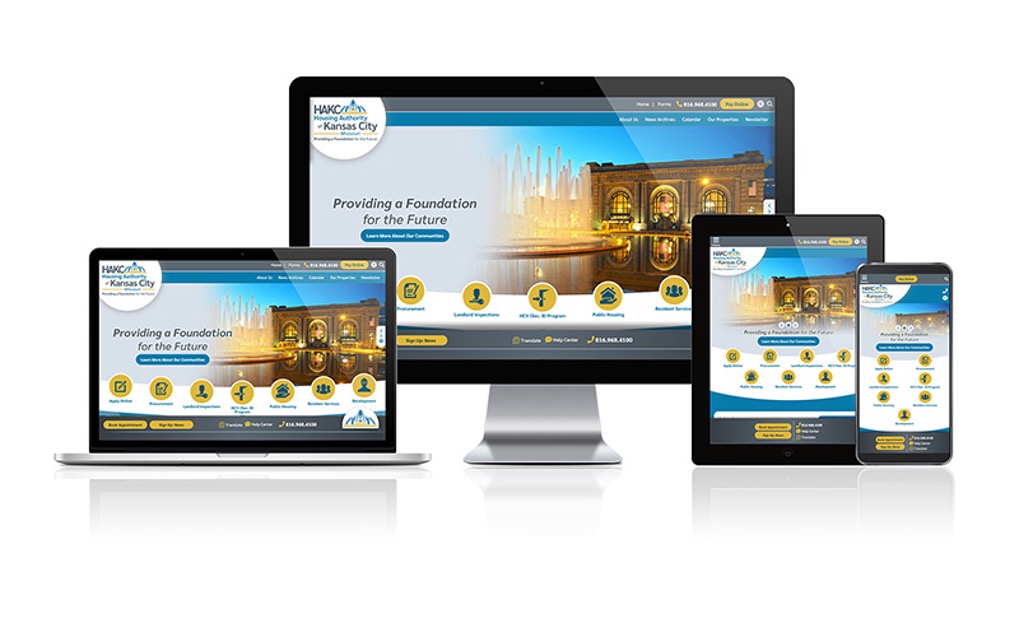 The Housing Authority of Kansas City Missouri launched their new responsive website 2Q 2023 (www.hakc.org). The website was created by Brooks Jeffrey Marketing, Inc. (www.BrooksJeffrey.com).
The new "responsive" website includes the logo rebrand and allows users to easily navigate the website no matter what device is used to view the website (desktop, laptop, tablet, smartphone).
To help make this new website more accessible for all users (including those using adaptive technology), it has been built using Web Content Accessibility Guidelines (WCAG) 2.0 to address the Americans with Disabilities Act (ADA) accessibility guidelines.
Some of the features/functions on the new website include:
Easy access to Apply Online, Pay Online, Book Appointments & Help Center.
Resident Services pages include information on community resources, family self-sufficiency (FSS) programs, section 8 homeownership program, adult & youth programs, resident advisory board/council, and more.
Public Housing pages include a list of the communities, how to apply for public housing, FAQs, public safety, and more..
HCV (Section 8) program pages include details on how the program works, how to apply, contact info, payment standards map, portability, and more..
Procurement page with bid opportunities.
Sign Up for News - Those interested in subscribing can sign up on the website to receive news

& can also (at any time) change their subscription or unsubscribe

Publishing to subscribers via text/email - a great way to stay informed about things happening
Calendar feeds four events to the home page with quick links to the complete interactive calendar
News feeds from the home page for a quick review of the three latest news articles posted on the site
Communities - Find housing properties in your area by type of property
All residents, landlords, and the general public are encouraged to visit the website and sign up for news & notifications. Website administrators will be able to publish important information, including upcoming events, news, and more, to those who have subscribed. The new website will be updated continually, often weekly, with new information that will benefit all residents, landlords, and the public at large.
Brooks Jeffrey Marketing, based in Mountain Home, Arkansas, was awarded the contract for the new responsive website. Established in 1984, Brooks Jeffrey Marketing provides integrated marketing solutions: advertising, branding, photography, public relations, promotional items, websites & social media campaigns to businesses, government entities & non-profits throughout the US. Brooks Jeffrey offers customized integrated marketing solutions to Housing Authorities.
(www.BrooksJeffrey.com)