Public Safety
To request assistance, to report issues of concern, or for any non-emergency matters requiring a HAKC public safety response or investigation, please call 816.968.4204.
Director Victor Webb
Department of Public Safety
Housing Authority of Kansas City
3822 Summit St., Kansas City, MO 64111
Phone: 816.968.4165
---
Mission Statement
The Mission of the Public Safety Department is to provide protective services, proactive security, investigative services, problem-solving services, lease enforcement, and positive life-enhancing services to its residents, guests, and staff. These services will be delivered with professionalism and respect. Public Safety will strive to maintain positive partnerships and relationships throughout the agency, with its customers, and with the community at large. The goal is to professionally facilitate a safe, livable, and harmonious environment for all residents, guests, staff, and the community at large.

Public Safety Drive and inspiration
Motto: "Work it Out"
Theme: "Respect Through Service"
Service Standards: Professionalism - Integrity - Honor - Service - Sacrifice
---
Crisis Intervention (CIT)
CPR and First Aid
Quarterly Firearms Training (Firearms training simulator)
Problem Solving and De-escalation
Self Defense Training
Pepper Spray Certification
Conflict Resolution
Statement Analysis
Active Shooter
Human Trafficking
Court Testimony and Preparation for Cross-Examination
M.O.C.S.A. - Sexual Assault
Rose Brooks - Domestic Violence
Report Writing
---
Public Safety Officers have police powers on HAKC properties
Enforce City Ordinances and State Statues
Foot and Vehicle Patrol on HAKC properties
Ban violators/Maintain Trespass list
Problem-Solving
De-escalation & Conflict Resolution
Crisis Intervention (CIT)
Crime Prevention Through Environment Design (CPTED)
Video Surveillance & Body Worn Cameras
Prepare case files for court testimony
---
Tenant complaints
Disturbance between neighbors
Cooperation and Collaboration with staff
Responsible for friends, guests, relatives
Incident reporting
Interview and Interrogation
Crime Scene Investigation
---
Housing Choice Voucher (HCV) Investigations
Licensed Private Investigator
Offsite investigations at privately owned residences
Fraud
Guests living illegally when not on lease or voucher
Cooperation Collaboration Partnership with KCPD
Scattered sites - trash, vehicles, other forms of blight
Investigate property damage, shootings, and neighborhood disturbances
---
Patrolling for blight
Document, photograph, and tow broken-down vehicles
Parking on grass violations
Blocking dumpsters
Traffic hazards
Unregistered vehicles
---
Public Housing Resident Council (PHRC)
Attend meetings
Communication and collaboration
Fundraising and event planning
Recruit new members
Build relationships
---
Staff Training and Emergency Response
Active shooter preparation
Fire safety and evacuation
Tornado and inclement weather
Threat assessment and personal safety
Incident reporting and documentation
On-site security CPR and First Aid
---
Edwin Lowndes, Executive Director

LaMonyka French, Deputy Executive Director

Victor Webb, Director

Supervisor

Alex Kump, Public Safety Officer - HCV/Scattered Sites

Sharri Dorsey, Public Safety Officer - Pemberton Heights, Guinotte Manor
Ron Jones, Public Safety Officer - T.B. Watkins, Wayne Minor
Mai Qabaha, Public Safety Officer - Bush Creek Towers, Riverview
Connie Worrell, Public Safety Officer - West Bluff, Dunbar
Jeovany Romero, Public Safety Officer - 3822 Summit



Victor Webb, Public Safety Director
Victor has a passion to serve the community. He served 3 years as a fire fighter volunteer, 8 years as a member of the United States Marine Corp Reserve, and he served 28 years as a law enforcement officer. He was promoted to the rank of sergeant and captain before he retired. Victor has a bachelors of arts degree in management. He started working for the Housing Authority in 2019. He was promoted to Director in 2023.
---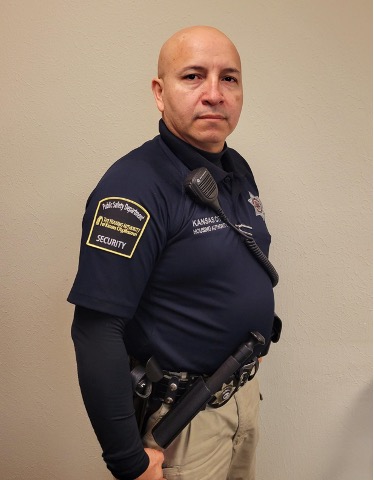 Jeovany Romero, Public Safety Officer
Jeovany has over 20 years of security service experience. He is a certified defensive tactics instructor, and he is certified as a personal protection officer. Jeovany served with FEMA during Hurricane Katrina. Jeovany is a descendant of Honduras, and he is fluent in Spanish. He credits his life experiences with helping to develop his critical thinking, interpersonal skills, and analytical thinking.
---

Connie Worrell, Public Safety Officer
Connie has 25 years of service and experience as a sheriff deputy and in security. She received her law enforcement certification through the Kansas Law Enforcement Training Center. She has an associate's degree in criminal justice. Connie has training as a Situational Awareness Specialist and additional training in Crisis Intervention, Statement analysis, and Crime Prevention Through Environmental Design.
---

Ron Jones, Public Safety Officer
Ron has 15 years of combined service between his time as a sheriff's deputy, and his time working in security. While working in the Sheriff's office, Ron was promoted to sergeant. In 2022, Ron joined HAKC as a public safety officer. He has training in Verbal Judo, Crisis Intervention, CPR, First Aid, and Basic Law Enforcement through KLETC.
---

Sharri Dorsey, Public Safety Officer
Sharri has lived in Kansas City for 8 years. She is a native of Washington, D.C. She has more than 10 years of experience in law enforcement and security. She has served as a campus officer, a special police officer, and she has worked as a correctional officer in the Jackson County jail. She has certification in Security and Protective Services to include Verbal Judo and CIT.
---

Mai Qabaha, Public Safety Officer
Officer Qabaha has been a public safety officer since 2022. She has law enforcement experience with the Lansing Kansas Police Department, and Platte City Missouri Police Department. Mai is a descendant of Palestine, and she is fluent in the Arabic language. Since joining the public safety department, she has been awarded two letters of commendation for her Bravery and for going Above and Beyond.
---

Alex Kump, Public Safety Officer
Alex has worked in public service his entire adult life. He served as a probation officer for 2 years before becoming a law enforcement officer for 28 years. Alex was promoted to detective, where he investigated homicides, robbery, missing persons, and property crimes. As a captain, he oversaw narcotics and SWAT operations. Alex retired from law enforcement in 2017 and joined HAKC in 2021.